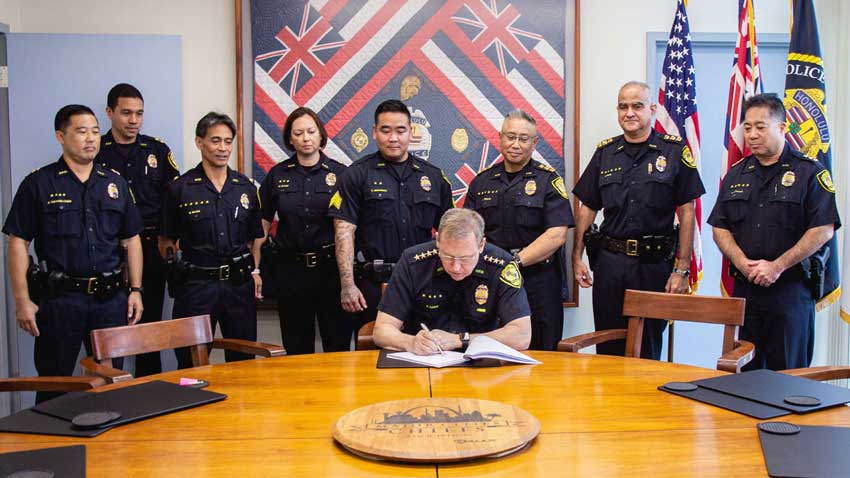 Amidst much fanfare, including a press conference and photo opportunity, the Honolulu Police Chief signed the first permit to carry a concealed firearm in Honolulu County, on Oahu, according to the Honolulu Police Department. The department has received approximately 600 applications, according to Police Chief Joe Logan.
Historically, obtaining such permits has been nearly impossible due to Hawaii's extremely strict gun control laws. As a "may issue" state, Hawaii required applicants to demonstrate a need to carry a concealed firearm. However, across the state, localities slowly started issuing concealed carry permits after the Bruen Supreme Court decision issued in June. Bruen removed the subjective standards that Hawaii and many other states (like New York and New Jersey) used to minimize or withhold the issuing of conceal carry permits. Honolulu is one of the last counties to approve a concealed carry permit. Residents say that municipalities have dragged their feet in issuing permits.
Parts of Hawaii have responded with new laws that identify "sensitive locations" where concealed firearms are illegal to possess. Hawaii County, for example, passed a "sensitive locations" bill in December, and Honolulu City Council has introduced an analogue bill that they will take up in the new year. Such measures are contentious because they prevent those who have already been thoroughly vetted and issued a concealed carry permit from carrying in these restricted locations. New York and New Jersey are contesting similar laws in court battles in those states. The New York and New Jersey laws were also passed in response to the Bruen decision.